Welcome! We are excited you're here. Here's a quick one-minute preview of our Tune-Up Day plan:
Now, grab your manuscript, pens, and courage, and join me for a live revising session for the next 13-minutes. Revising is more fun when we do it together!
Woohoo! Whether you revised for five minutes, thirteen minutes, or kept going for an hour, you ROCK!
And now, here are the exciting Tune-Up Day prizes.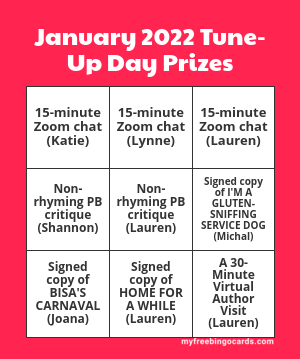 Just let us know how you did by commenting comment on today's post, and then enter the Rafflecopter by January 31st to win!

We'll see you on April 6th for our Spring Tune-Up Day Challenge!
Feel. Write. Risk.
Lauren, Joana, Katie, Lynne, Michal, and Shannon