Hello #ReVISIONweekers!
We are SO excited for our first #ReVISIONweek Tune-Up Day of the year!
For a change of pace, we thought we'd share a couple of videos for your viewing pleasure. These videos are chock-full of revision tips to help you on your journey.
What type of ReVISION-ary will you be today?
Are you going to be a:
Make-each-word-count critiquer?
Hone-in-on-your-humor hotshot?
Critique-partner commenter?
There are so many options! Check out these short videos to learn more about each approach.
But most importantly:
Be true to yourself.
Revise from the heart.
And trust the process.
In the worlds of Charlie, "You've got this!"
And now, let's talk about prizes. As long as you revise today or tomorrow (even if it is just for a moment), you can enter to win a prize. Here's how…
Visit: https://laurenkerstein.net/%23revisionweek on Friday to enter the Rafflecopter. You will have one week to enter. The Rafflecopter will shut down on Friday, January 29th at 12:00 am MST.
Winners will be announced on Monday, February 1st.
Here are the fabulous prizes: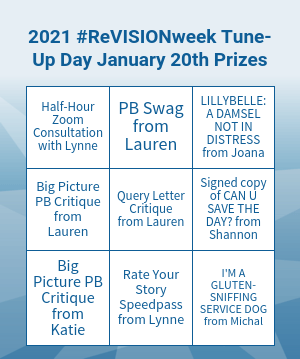 May you have a day filled with revision magic!
Feel. Write. Risk.
Lauren, Joana, Katie, Lynne, Michal, and Shannon
P.S. I hope you'll join Natalia Moore and me as we launch our latest book, HOME FOR A WHILE into the world on February 7th at 2:00 PM (MST). You can email Lauren Casey (address below) or visit: https://www.eventbrite.com/e/book-launch-with-lauren-kerstein-and-natalia-moore-tickets-136506601921